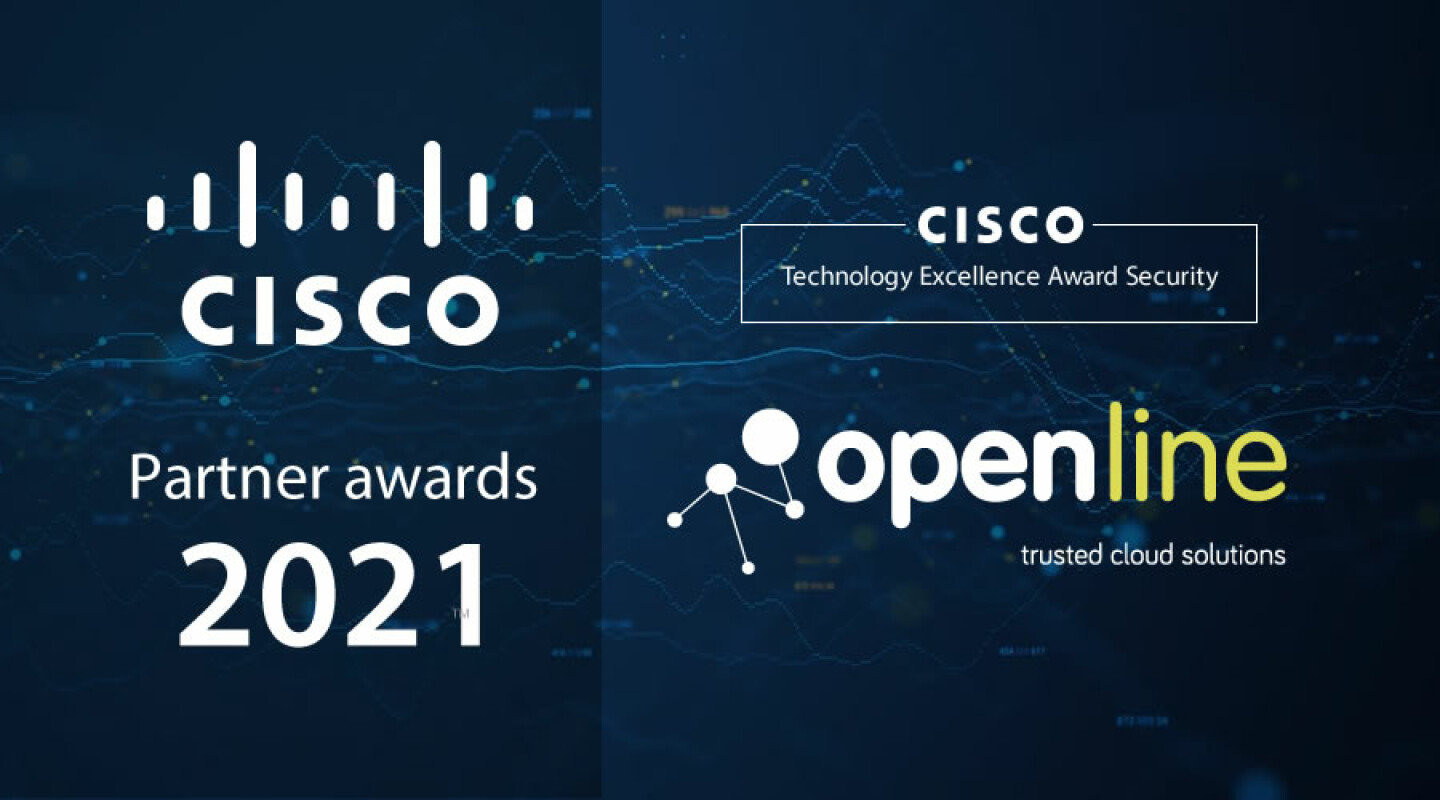 Cisco Partner Awards 2021
The Technology Excellence award for Security goes to…. OPEN LINE!
Open Line has received the Technology Excellence Award for Security from Cisco. We at Open Line are very proud of this achievement and consider it a great honour to receive this award. 
"Open Line made a firm commitment to Cisco Secure this year. Together with Cisco, it wants to join the Transform movement. When it comes to managed services, Open Line is a true example of what Cisco wishes to achieve. It is doing all this alongside significant triple digit year-on-year growth and pleasant open and honest collaboration."
- Edwin Prinsen (Managing Director), Cisco
We look back with fond memories on a valuable partnership over the past year. Many thanks Cisco for these wonderful words and recognition, this makes us feel absolutely great! We do not make security choices alone, we do so together with our clients, so we wish to thank them too for achieving this fantastic award. 
Trusted IT that makes you Smile
Cisco Partner Awards 2021
On 4 November, Cisco announced which Dutch partners have won a Cisco Partner Award for the collaboration between their clients and Cisco Nederland in Cisco's 2021 financial year. Every year Cisco presents awards in the Netherlands – this year during a virtual session – to partners who have achieved substantial growth in certain areas or who have stood out in other ways.
The winners were announced by Edwin Prinsen (Managing Director Cisco Netherlands) and Daan de Groot (Head of Cisco Partner Organization Netherlands). 
Open Line: Your reliable and innovative Cloud Solution Specialist
Open Line supports and advises clients in various sectors when it comes to the design, construction and management of complex ICT outsourcing and other projects. Our Managed Services concept offers a complete set of Smart Cloud services that help clients to achieve their business and digital objectives.
All sectors have challenges to face and no two organisations are alike. Although our products and services are sector-independent, every sector requires a personal approach. As an independent service provider, we put ourselves in your shoes so we know what motivates you. Only then can we deliver what we promise you.
Our view is that client relationships go beyond a consultation or an ICT project. Every outsourcing or other relationship is unique as far as we are concerned. We are both partners and advisers to our clients and are proud of our client references and enduring relationships that underscore that fact.
Our focus? Supplying added value by excelling in the technical domain of your information provision in design, construction and management of Cloud infrastructures.