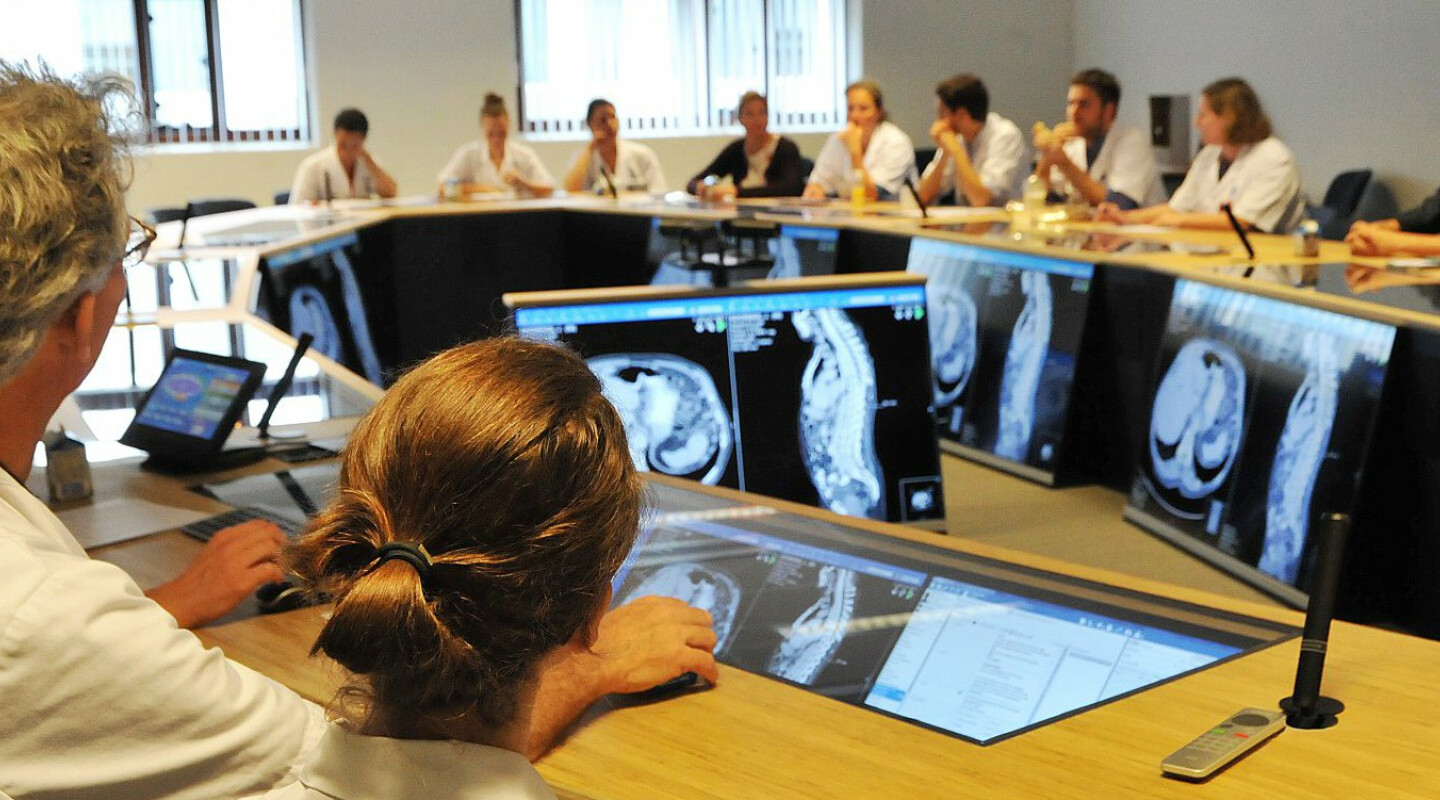 Data Sharing Midden Nederland (DDMN): collaboration via MDO-as-a-Service
Data of cancer patients in the Central Netherlands region will soon be available in a regional virtual multidisciplinary team meeting at the push of a button.
Oncomid, the Central Netherlands oncology network in which six hospitals collaborate, is now successfully using the virtual MDTM (MultiDisciplinary Team Meeting) platform of Open Line and Parsek. The cross-hospital work processes related to the MDTM are supported by this platform. This eliminates many manual activities that were previously necessary to share information. This saves an average of 30 minutes per patient and increases flexibility. Open Line provides the virtual platform as: MDTM as a Service.
30 minutes of time saved per patient
Before the introduction of the MDTM platform, many manual actions were necessary to prepare for the MDTM, which took up approximately 30 minutes for each patient registration. Medical specialists, nurses and secretaries can now spend that time on other matters. As a result of a connection to EPRs (Electronic Patient Records) and XDS (Cross-Enterprise Document Sharing) of the hospitals, retyping is no longer necessary. Images and reports can also be retrieved from the virtual MDTM platform at the click of a mouse.
More than 2,300 patients already discussed virtually
The first tumour working group being facilitated by the regional MDTM on Open Line's online collaboration platform is UroOnco (urology). At present, more than 2,300 patients have already been discussed in this tumour working group via the MDTM platform. The aim is that eight other regional oncology MDTMs in the Central Netherlands – approximately 8,200 patients per year – will soon be discussing their patients in this manner.
Showing data from background EPRs
Data being discussed during an MDTM are currently still being retrieved via XDS from the EPRs of the hospitals. The intention is to link the EPRs directly to the MDTM platform of Open Line, so that XDS will no longer be necessary. As soon as that has been accomplished, the eight other Oncomid tumour working groups will also join-up in phases.
Cooperation between hospitals, healthcare insurers and technology providers
The project is being implemented in close cooperation between the six participating hospitals, the healthcare insurer umbrella organisation Zorgverzekeraars Nederland, Open Line and Parsek, who are jointly providing the MDTM platform, EPR providers Chipsoft, Epic and Easycare, and the two most important suppliers of XDS networks, Philips Forcare and Enovation.
Fully replicable by using open standards
The environment will be fully set up based on standards of IHE, Nictiz, TWIIN, IKNL/Citrien, so that the model can also be easily replicated in other regions. In doing so, two key starting points have been adopted:
Registration at the source: the data remain in the EPRs of the hospitals. The Open Line platform retrieves data from the EPRs (on the basis of consent) and 'forgets' the data after use.
The Right Care in the Right Place: this collaboration will make it far easier for participating hospitals to discuss patients in a multidisciplinary meeting and then provide treatment at the hospital that suits them best.
Blueprint for data exchange
Laurens Faessen is involved in the project on behalf of Open Line. He explains:
"We have been talking about data exchange in healthcare for years, but due to the complexity and diversity in IT and processes, we are impeded each time by obstacles. Together with the other providers – Chipsoft, Epic, Easycare, Philips Forcare and Enovation – we prove that the technology is there and that it can be done if all parties involved are willing. Other regions can replicate this blueprint. In doing so, lots of time savings are achieved for healthcare professionals and the right information is made available, which ultimately also leads to better care."
Arjo Boendermaker is project manager of the Data Delen Midden-Nederland data sharing organisation. He explains:
"This project is a good example of connected care. The virtual MDTM platform facilitates participating hospitals to collaborate proactively with minimal administrative requirements. We are very pleased that Open Line and Parsek are part of our ecosystem."
Open Line: Your reliable and innovative Cloud Solution Specialist
Open Line supports and advises clients in various sectors when it comes to the design, construction and management of complex ICT outsourcing and other projects. Our Managed Services concept offers a complete set of Smart Cloud services that help clients to achieve their business and digital objectives.
All sectors have challenges to face and no two organisations are alike. Although our products and services are sector-independent, every sector requires a personal approach. As an independent service provider, we put ourselves in your shoes so we know what motivates you. Only then can we deliver what we promise you.
Our view is that client relationships go beyond a consultation or an ICT project. Every outsourcing or other relationship is unique as far as we are concerned. We are both partners and advisers to our clients and are proud of our client references and enduring relationships that underscore that fact.
Our focus? Supplying added value by excelling in the technical domain of your information provision in design, construction and management of Cloud infrastructures.